ABOUT US
Dr Sam Thandar graduated from the University of Witwatersrand were he obtained his Bachelors in Dental Surgery (BDS), he then furthered his career after undergoing post-graduate training in both Aesthetic Dentistry and Endodontics (Advanced Root canal Treatments) from which he graduated Cum Laude. He also has an affinity for the restorative phase of implants as well as immediate loading implants.
Our practice is focused towards Root Canal Treatments, Cosmetic Dentistry and Implantology. Digital x-rays offer rapid and prompt diagnostic service, utilizing an advanced digital medium. Our X-rays appear on a computer screen in the surgery visible to our patient, which provides us with a visual tool for patient interaction, and enhances patient understanding of what treatment needs to be carried out. In addition, we utilize the facility of an intra-oral camera, this aids in patient understanding as well gives our patients a full colour image of the tooth or teeth before and after treatment.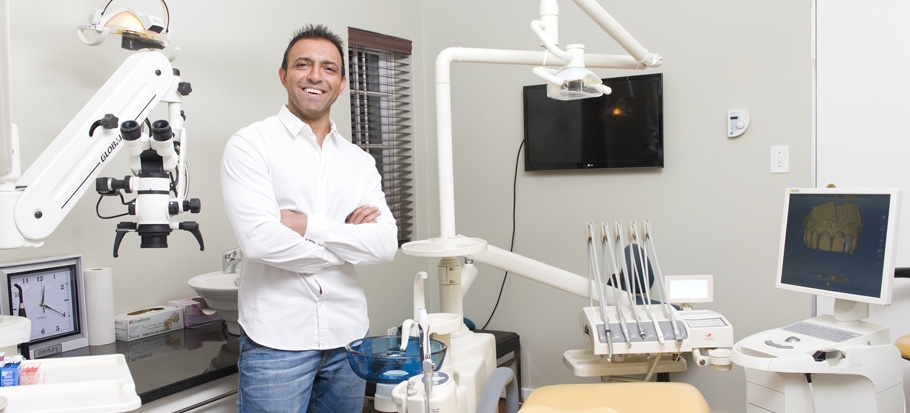 Why not enjoy watching your favorite programme or music channel while lying in a comfortable dental chair? We have televisions mounted on our ceiling, with a full bouquet of DSTV to choose from, at your fingertips. Our patients, both young and old, find this most entertaining while undergoing some of the most advanced restorative and cosmetic dental treatments.
REGISTERED MEMBER

SADA -

South African Dental Association

SAAAD -

South African Academy of Aesthetic Dentistry

HPCSA -

Health Professions Council of South Africa

AAED -

American Association of Esthetic Dentistry

Copyright Aesthetic Dentist © 2013